2014 Pioneers & Purpose
---
CLICK HERE to see 2014′s event!
"STEM is this country's competitive advantage."
      – Mike Splinter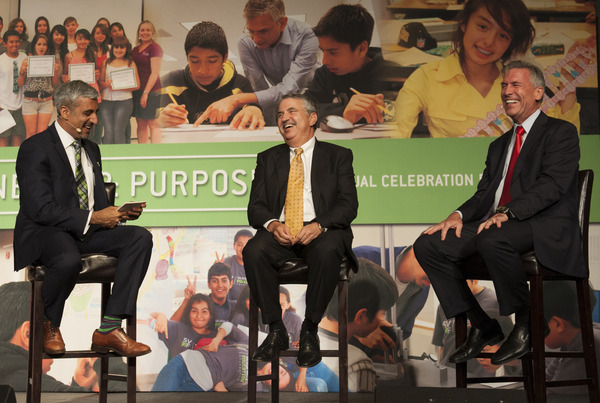 Muhammed Chaudhry, Thomas L. Friedman, & Mike Splinter
discussing the importance of STEM education for young students.
Thank you to our sponsors and guests for rallying in support of Silicon Valley's future!
Between 7th graders dominating Silicon Valley CEOs during the STEM Showdown, the enlightening fireside chat between the evening's honorees, Thomas L. Friedman and Mike Splinter, and the record breaking level of funds raised for Silicon Valley students, last night's 10th annual Pioneers & Purpose was our most successful event ever.
Here are a few numbers from the evening:
700 guests attended with the common goal to elevate the achievements of Silicon Valley students.
75 corporate and individual sponsors demonstrated their support for innovation in education.
$1.18 million+ pledged towards making Silicon Valley the #1 region in California in academically prepared high school graduates.
35 SVEF students and teachers filled the ballroom with laughter, sharing their passion for learning in our STEM programs.
6 SVEF students dominated 6 Silicon Valley executives in extraordinary fashion at the first ever STEM Showdown.
4 nonprofits across the country honored as recipients of the STEM Innovation Awards for their pioneering work in STEM education.
2 honorees recognized for their contributions to Education: Mike Splinter, our 2014 Pioneer Business Leader, and Thomas L. Friedman, our Champion in Education.
1 event that brings together all of Silicon Valley in support of public education.
"I am truly honored to be associated with the Silicon Valley Education Foundation and the good work it does to improve the lives of underserved students and help them reach for college."
- Thomas L. Friedman
Join us by exploring the ways you can get involved right now:
Volunteer in the Classroom: For more information, email volunteer@svef.com or visit our volunteer page.
Sponsor a Student: Elevate Math and Elevate Science costs $500 per student or just $25 per day of programming. Whether you can contribute $500 or $25, your support makes a difference. Contact us at development@svef.com or

408-790-9420

.
Like us! To hear about our resources and future events, please:
---
Elevating Achievement Through Innovation